With the New Year almost here, it's time to check out the top 7 fintech trends to keep an eye on in 2023.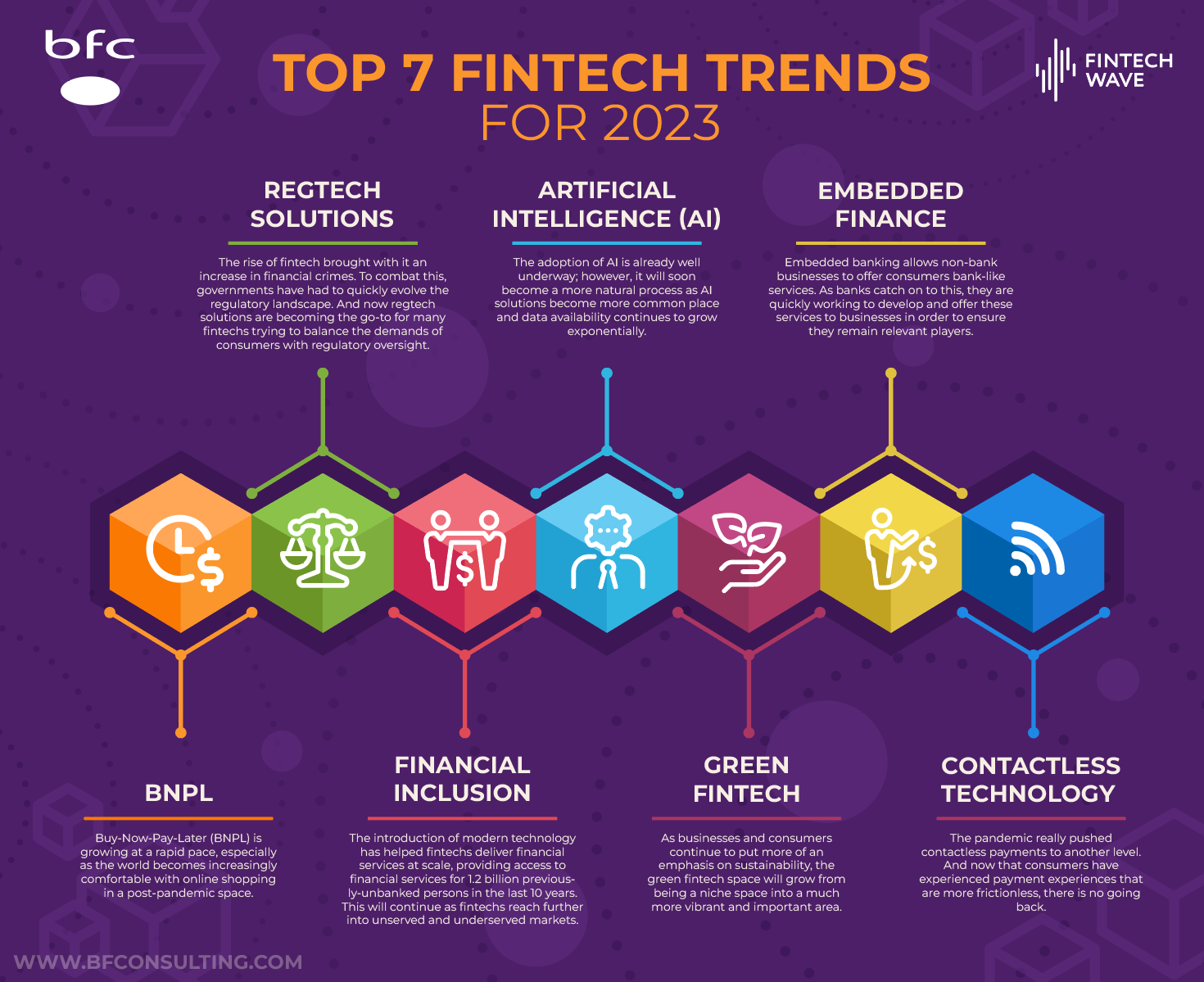 Buy-Now-Pay-Later (BNPL) – BNPL is growing at a rapid pace, especially as the world becomes increasingly comfortable with online shopping in a post-pandemic space.
Regtech solutions – the rise of fintech brought with it an increase in financial crimes. To combat this, governments have had to quickly evolve the regulatory landscape. And now regtech solutions are becoming the go-to for many fintechs trying to balance the demands of consumers with regulatory oversight.
Financial inclusion – the introduction of modern technology has helped fintechs deliver financial services at scale, providing access to financial services for 1.2 billion previously-unbanked persons in the last 10 years. This will continue as fintechs reach further into unserved and underserved markets.
Artificial intelligence (AI) – the adoption of AI is already well underway; however, it will soon become a more natural process as AI solutions become more common place and data availability continues to grow exponentially.
Green fintech – as businesses and consumers continue to put more of an emphasis on sustainability, the green fintech space will grow from being a niche space into a much more vibrant and important area.
Embedded finance – embedded banking allows non-bank businesses to offer consumers bank-like services. As banks catch on to this, they are quickly working to develop and offer these services to businesses in order to ensure they remain relevant players.
Contactless technology – the pandemic really pushed contactless payments to another level. And now that consumers have experienced payment experiences that are more frictionless, there is no going back.