In 2021, many financial institutions became much more proactive in questioning long-held assumptions about the banking sector. In doing so, they discovered that transformation can be a quicker and more painless process than previously imagined. As they now continue to shift their mindsets and reimagine the possibilities of what banking can be, there are 10 big trends poised to shape banking in 2022: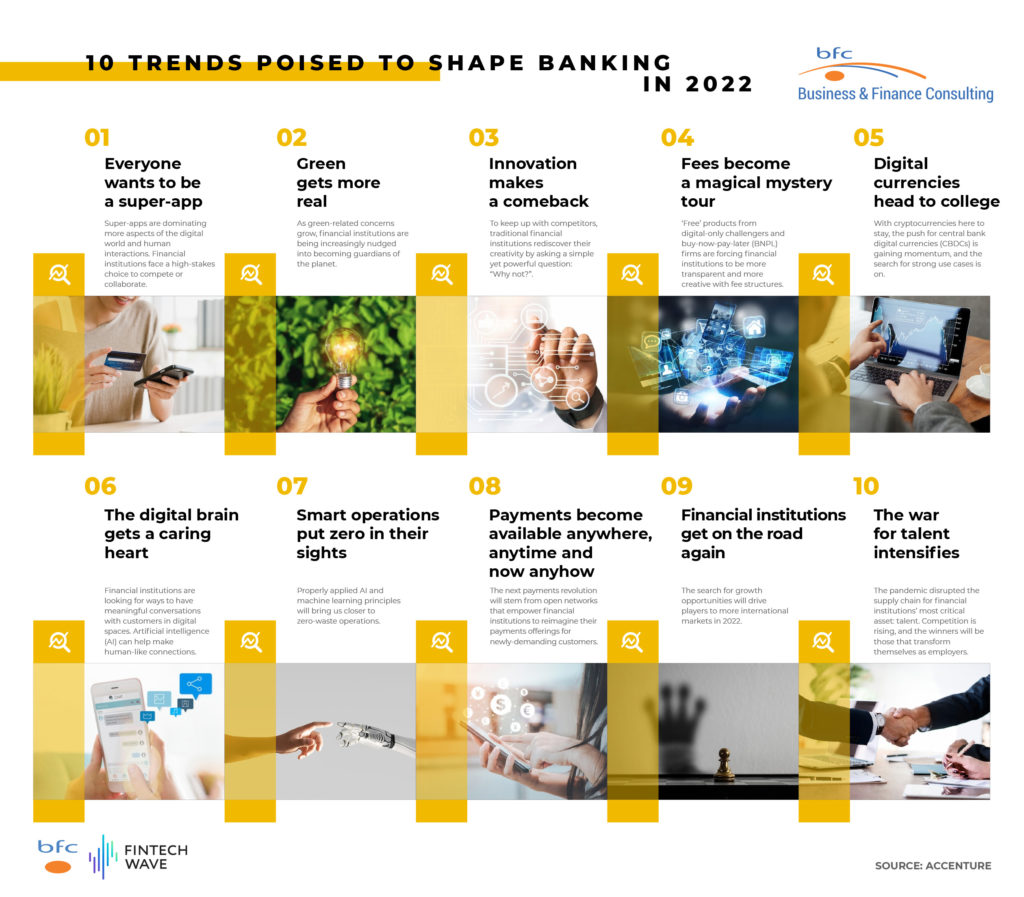 Everyone wants to be a super-app. Super-apps are dominating more aspects of the digital world and human interactions. Financial institutions face a high-stakes choice to compete or collaborate.
Green gets more real. As green-related concerns grow, financial institutions are being increasingly nudged into becoming guardians of the planet.
Innovation makes a comeback. To keep up with competitors, traditional financial institutions rediscover their creativity by asking a simple yet powerful question: "Why not?".
Fees become a magical mystery tour. 'Free' products from digital-only challengers and buy-now-pay-later (BNPL) firms are forcing financial institutions to be more transparent and more creative with fee structures.
The digital brain gets a caring heart. Financial institutions are looking for ways to have meaningful conversations with customers in digital spaces. Artificial intelligence (AI) can help make human-like connections.
Digital currencies head to college. With cryptocurrencies here to stay, the push for central bank digital currencies (CBDCs) is gaining momentum, and the search for strong use cases is on.
Smart operations put zero in their sights. Properly applied AI and machine learning principles will bring us closer to zero-waste operations.
Payments become available anywhere, anytime and now anyhow. The next payments revolution will stem from open networks that empower financial institutions to reimagine their payments offerings for newly-demanding customers.
Financial institutions get on the road again. The search for growth opportunities will drive players to more international markets in 2022.
The war for talent intensifies. The pandemic disrupted the supply chain for financial institutions' most critical asset: talent. Competition is rising, and the winners will be those that transform themselves as employers.